About Us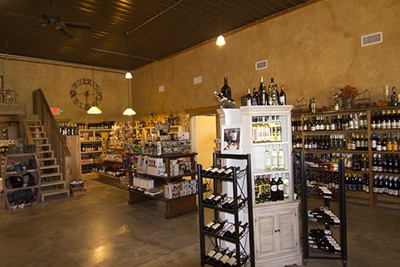 Cork It is more than your typical liquor store. We have everything from great selections of wine, spirits, and brews, to our specialty foods, gifts and we make gift baskets. We also do Beverage tastings and Karaoke on ocassion, watch the events section to see when the next one is scheduled.
The entire staff is knowledgeable, friendly, and happy to make suggestions to make you're experience here pleasant and fun. Our moto is, "If we don't have it we will do our best to get it!"
Plus the many events, we strive to make everything extra special here at Cork It! We're happy to be part of so many special occasions like weddings, birthdays, anniversaries, and holidays. As you can rent our Porter room, and patio for your events and we'll even do the set up and cleaning for you. Catering is an option through The Waters Edge, if needed.
As of, July 1st 2019 we added a canopy over the patio area to keep those rays of sun off you, but enjoy the breeze. Then, August 7th 2020 we extended our patio and built a wind breaker making it a 3 season patio. We dedicated it to one our regular customers who passed away this summer naming the patio, "Molly's Place".
We have alot of options available to help make your shopping experience easy. You can always call ahead make a payment over the phone with a credit card #. We can then let you pick it up by bringing it out to your vehicle, grabbing it at our drive thru window or you can even come inside if you chose to. We have also begun carring Woudsta meats.
You're invited to experience all of this at Cork It!